Flood Damage Claim
One of the most prevalent types of property insurance claims is water damage. Although most typical homeowners insurance policies exclude some types of water damage such as flooding and sewage backup, other water-related dangers such as a burst pipe are still covered. Water-related damages should be covered for policyholders who have both home and personal property coverage.
What is the difference between flood and water damage?
In an insurance policy, water damage and flooding damage are two different types of coverage. The former is usually covered by conventional homes insurance plans, whilst the latter requires a special flood insurance policy from a different company.
Flooding is defined by FEMA as:
"A general and transitory condition characterized by partial or complete inundation of 2 or more acres of ordinarily dry land or of 2 or more properties (one of which is the policyholder's) from:
Mudflow; or Inland or tidal wave overflow; or Unusual and quick accumulation or runoff of surface waters from any source; or
A flood as defined above occurs when land along the shore of a lake or similar body of water collapses due to erosion or undermining caused by waves or currents of water surpassing expected cyclical levels."
How do I know if my policy covers Flood Damage?
Flood damage is often excluded from conventional homes insurance policies in most jurisdictions. You'll have to get flood insurance from a government agency like the National Flood Insurance Program or FEMA. Alternatively, you can purchase flood insurance from a licensed private carrier.
Does my policy cover damage resulting from sewer backup?
The majority of insurance do not cover damage caused by a sewage or drain backlog or a failed sump pump. Additional endorsements to your policy may provide coverage for sewage, drain, or sump pump backups up to a certain amount of money. It's crucial to study your policy carefully to understand the scope of your water damage coverage and any possible exclusions. Another alternative is to buy a sewer backup damage rider.
What are Anti-Concurrent Clauses?
When a covered risk and a non-covered peril combine to generate a loss, anti-concurrent clauses prevent recovery. In the event that your home is damaged by both wind (covered) and floods (non-covered) as a result of a hurricane, your insurer will deny your claim, regardless of whether you have wind coverage. Make sure to check through your policy to see if any of these terms apply.
Does my policy cover frozen pipes or damage from an appliance?
Water that accidentally discharges from a broken appliance may be covered under your homeowners insurance policy. Frozen pipes may also fall under your policy's coverage, but there are often conditions attached such as maintaining heat in your home or properly winterizing your home.
What is water exclusion clause?
Certain types of water damage are not covered by an insurance policy due to a water exclusion clause. These clauses limit the number of successful water-related claims an insured can make. Exclusion clauses usually apply to damage caused by flooding, standing water, groundwater, and drain or sewer backup.
Is damage from rain or snow covered?
Snow damage, ice dam roof collapses, and wind-driven rain damage may be covered if the damage is demonstrated to be the result of a covered risk or meteorological condition.
What to do if your property sustains water damage?
Make a note of any immediate repairs that need to be made to your home. If not handled with appropriately, water can cause further damage to your home. Make a note of any expenses made as a result of the interim repairs.
Photograph any damage in its original condition. This information will assist you in submitting a successful claim.
To examine the damage, consider employing a public adjuster or a damage assessment professional. Although the insurer is likely to send their own adjuster, having an impartial appraisal can be beneficial.
Be aware that this type of damage can lead to additional problems such as weakened doors, walls, windows, appliances, and other structural problems.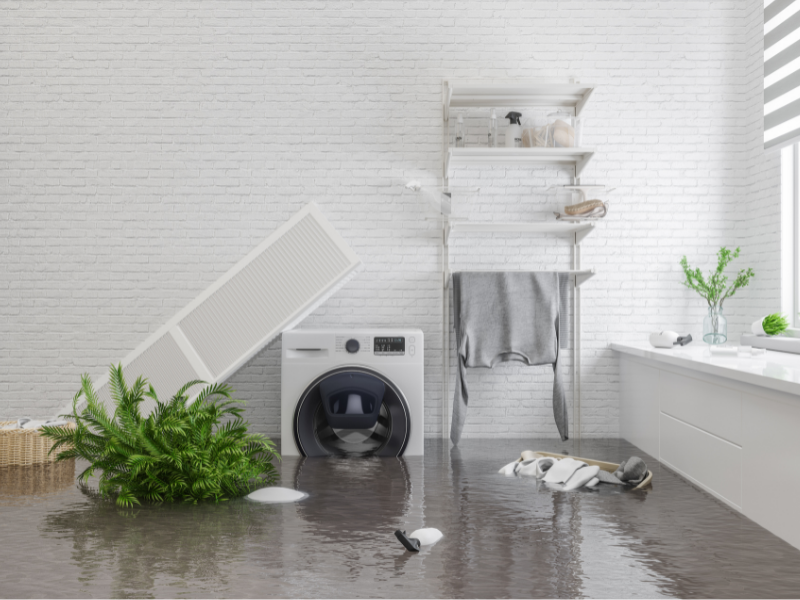 Flood damage is one of the more difficult claims to resolve because it isn't covered by most homeowner's insurance plans. Rather, flood insurance can be acquired through the National Flood Insurance Program, which is run by the government (NFIP). When dealing with a flood, deciding what form of damage claim to file might be tough. A reputable Public Adjuster will ensure that you take all of the essential measures to receive your proper payment here and throughout the claim process.
A flood is defined as a circumstance in which water or mudslides submerge two or more acres of typically dry ground or two or more properties at the same time.
When filing a claim for flood damage, there are a few processes that must be followed that are not required for most other types of damage claims. To begin, make sure you have flood insurance, whether it's through your own homeowner's insurance policy or one acquired through the National Flood Insurance Program (NFIP). After that, you should receive several independent damage estimates for your property. 
Because flood damage is often disputable, getting various sources for your damage assessment is critical to getting a fair payment. After you've done this and spoken with a reputable Public Adjuster, you must file a damage claim with the National Flood Insurance Program (NFIP) or your insurance company within 60 days of the damage occurring.
Your insurance company is likely to contest flood damage, which a Public Adjuster can assist your fight. Insurance plans for flood damage will not cover damage that is deemed "preventable." Mold or moisture damage that could have been avoided are examples of this. Flood damage insurance does not cover property outside of your insured premises, nor does it cover living expenses while you are temporarily housed.
Without an experienced specialist on your side, the entire flood damage procedure can be difficult to navigate. Call us today for our skilled Public Adjuster's aid to save time and enhance the payment of your flood damage claim.
Call For A Free Consultation
Don't settle your insurance claim on your own.  Call us to get a free consultation.