Committed to Property Insurance Claims
You wouldn't go to court without a lawyer! You shouldn't try to settle a claim without a Public Adjuster.
Contact Your Public Adjuster!
Call: (833) 252-4600
Email: [email protected]
24/7 National Service Area
A Public Adjuster You Can Trust
Our company resolves insurance claims for individuals, businesses, municipalities, and condominium communities. Our Public Adjusters have the skills and resources to make you whole again, regardless of the type of property.
No Hidden Fees
No upfront fees or cost to you.  We get paid when you get paid.
We Work For You
We negotiate with the insurance companies for you.
Payments
People who used a public adjuster have received larger payments.
Why Use A Public Adjuster?
Many companies advertise that they litigate property insurance claims, but when you delve deeper, you'll find that they also operate in a variety of other fields. Our expertise is focused on representing clients and contesting their insurance claims. In a single case, our insurance claim  successfully litigated and recovered damages for an insured totaling more than $1 million. Our company  has distinguished itself from its competition by having a committed team, financial resources to fight insurance companies, and teams located around the United States.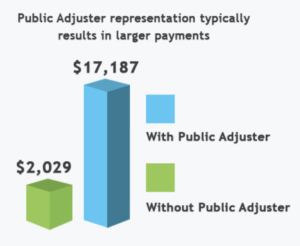 In a property insurance claim, a public adjuster works in your best interest. They will assist you in managing the claim, ensuring that all claim filing procedures are satisfied, and assisting in the recovery of the amount that a policyholder is entitled to under their insurance contract.
The public adjuster, unlike the adjuster dispatched by your insurance company, works for you. As illustrated in the diagram, people who utilized a public adjuster received much bigger payments from the insurance company (Source: OPPGA Analysis).
Do you need to file a claim for your home? We can assist you. Our experience will assist you in obtaining the highest possible settlement for your claim.
Do you need to file a claim on behalf of a company? We will obtain you the money you deserve because we have over ten years of experience in business claims.
HOA claims must adhere to strict criteria. We work together with your homeowners' association to verify that your claim fulfills their requirements.
Claims Pro Public Adjusters are Committed to Educating the Public
on Insurance Litigation Topics
"I am so thankful to have found Claims Pro. We were hit hard by hail. We had holes in our stucco our roof was destroyed and our insurance company didn't want to pay to fix the damages. They claimed we had 15,000 in damage when we had over 100,000 in damage. I did not know about public adjusters until I did some research and found Pete and Claims pro. If you have damage to your house I strongly recommend that you call claims pro before you call your insurance company. Public insurance adjusters work for you NOT the insurance company. I highly recommend these guys."
There is no upfront cost. We don't get paid until you get paid.
Ready To Get Started?
Fill out our contact form for a FREE consultation or give us a call at (800) 961-3132.